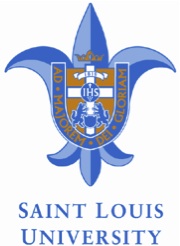 St. Louis University
2013 Doisy Undergraduate Biochemistry Scholar
Summer Research Program (PhD-track activity)
Goals and Expectations: The program is sponsored by the E. A. Doisy Department of Biochemistry and Molecular Biology at Saint Louis University (http://biochemweb.slu.edu/) and provides an opportunity for undergraduate students to gain research experience in biochemistry and molecular biology in preparation for graduate school. Participating students (i) will be matched according to their interests with faculty sponsors after meeting them during an orientation day at SLU in March, (ii) will become familiar with the selected area of research prior to starting their summer research, and (iii) will spend 10 summer weeks working full-time as part of their sponsor's research team. The research experience will be supplemented by an informal seminar series in which summer students will learn about the research interests and career paths of current students and faculty in the department. Students will give an oral presentation at the end of the Program.
Criteria for Admission: Students must be (i) full-time undergraduates who are eligible to work in the US, (ii) have completed at least two years of college, and (ii) have an interest in science as documented by college transcripts , an essay/personal statement, and recommendation letters from at least two professors. No previous research experience is required, but students must be familiar with basic laboratory techniques and literature reading, which are typically provided by undergraduate courses such as quantitative analysis, cell biology, genetics, and biochemistry/chemistry.
Timeline: Duration of the 2013 Summer Program: May 31 (Friday) – August 9 (Friday), 2013.
Deadline for Applications: February 1, 2013 (Friday).
Winners' Announcement: Feb 22, 2013 (Friday).
Early Orientation Day at SLU: March 15, 2013 (Friday).
Stipend: Each student accepted for the Doisy Summer Research Program will receive a stipend of $3200 for the duration of the program, to cover the cost of housing, meals and transportation. The housing options will be prearranged at the time of orientation in March. All students are expected to have no other work arrangements for the duration of the Program.
Contact Information:             Dorota Skowyra, skowyrad@slu.edu; phone: 314-977-9280
Cindy Cooper, clcooper@truman.edu
Submission of Applications: Applications should be submitted online athttp://secure.truman.edu/osr-s
Essay/Personal Statement 
Prepare an Essay offline in a word processing application (Word) and then upload your file with the application.  Please address the following prompts in your Essay:
1. What do you hope to achieve by participating in the Doisy Undergraduate Biochemistry Scholar Summer Research Program (PhD-track activity) at Saint Louis University?
2. If you have participated in any previous research with faculty at Truman or elsewhere, please convey a) What was the goal of that project and b) what was your contribution to the effort.
3. List or briefly describe any laboratory skills and instrumentation experience you have gained from class and/or research laboratory experiences.
4.  List in order of first, second, and third choice, the names of three research faculty at Saint Louis University whose projects are of most interest to you now (refer to the Faculty Research Document).
Letters of Recommendation
Students should arrange for two letters to be written by February 4, 2013. When a student enters the letter writer's information into the TruScholars Application, an email will be sent to the letter writer giving a place to upload a letter of recommendation.
Faculty Research Interests
Among the faculty included in the Faculty Research Interests File, only the 9 faculty members highlighted in yellow will accept a Doisy Undergraduate Scholar during the summer of 2013.