One of my favorite things about Truman is its commitment to offering and promoting affordable, accessible international experiences. Similarly, I have always admired the extent to which undergraduate research is valued here. Last November, I was able to combine both pursuits by attending the inaugural World Congress on Undergraduate Research (WorldCUR) at Qatar University in Doha, the capital of Qatar. This incredible experience was made possible thanks to generous financial support from Truman's Office of Student Research, School of Arts and Letters, and Department of Classical and Modern Languages.
Separated from Missouri by an ocean, sixteen hours of flights, and over 7,000 miles, Doha felt like a different world. Not only was it seventy degrees in November, but the local culture and customs were also largely unfamiliar to me. Despite this, though, nearly everyone I encountered – from taxi drivers to hotel staff to the University faculty and students – was friendly, welcoming, and hospitable. In addition to the Qataris themselves, I met conference attendees from as far away as Egypt and Australia. The research mentors and other faculty present were approachable and interacted with us as though they were our peers, creating an atmosphere of camaraderie, mutual respect, and lively intellectual exchange. Without question, it was the people who made WorldCUR such a memorable experience, although exploring the city and eating delicious Qatari food didn't hurt, either!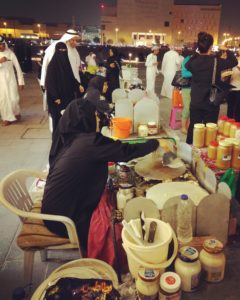 The research that got me to WorldCUR was on the cross-cultural implications of El compendio delos boticarios, a fifteenth-century Spanish apothecaries' manual. Previously, I had compiled a glossary of its rare, archaic, and technical terms and linguistically analyzed one of them in detail. The Compendio, however, is also rich with opportunities for other types of research due to the evidence that it contains of exchange between Jews, Christians, and Muslims in the medieval Mediterranean. As "global health" was one of the conference themes, I decided to step out of my academic comfort zone by investigating the effects of this exchange on global health from a historical perspective. I then supported my points using textual evidence from the Compendio.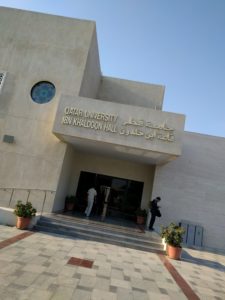 None of this would have been possible without the guidance and support of my mentor, Dr. Thomas Capuano, who taught me how to do linguistic research and continued to be of assistance as we considered the Compendio's interdisciplinary aspects for WorldCUR. Without his help, I would not be graduating this May with the confidence and knowledge that resulted from my undergraduate research. Culminating in my trip to Doha last November, it was a truly transformative experience that has been the highlight of my college career.