Student Research Project: Giorgi Amashukeli, Business Administration Major
Research Project: Field Research in the Republic of Georgia: Preservation of Folk Songs in the Caucasus Mountains (Shirley McKamie, Lecturer in Music and Musicology, Faculty Mentor)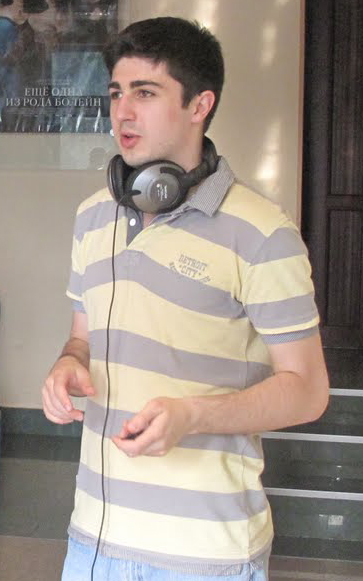 Q: How did you find a research mentor?
A: I took my JINS class (Music in Religious Thought) with my mentor Shirley McKamie and decided to work with her on my project.
Q: What did you do for your TruScholars project?
A: For my TruScholars project, I traveled to the Republic of Georgia to record some very unique polyphonic folk songs which are near extinction in many regions of the country.
Q: What advice would you give to students who want to get involved in research?
A: I would suggest identifying their field of interest and then finding a good research mentor who would be able to individually work with them and give consistent feedback along the way.
Q: How did you get started doing research?
A: The idea of doing summer research was in my head for a long time, as I was really interested in the subject, but it intensified when I met my professor and future mentor Shirley McKamie who led me in the right direction, providing much needed help.
Q: What did you do in a typical day conducting research?
A: One of the typical days would involve preparing to travel to the field-research regions and getting my equipment ready to record interviews and folk songs.
Q: What was the most rewarding part about carrying out research?
A: The most rewarding part had to be the overall experience, which made me think of many issues differently and rediscover my own country.
Q: What was the most challenging aspect of doing research and how did you overcome it?
A: The most challenging aspect was finding the performers who would know the older songs that are rare. I accomplished that through various contacts in Georgia, which included Dr. Tamaz Gabisonia from the Tbilisi Conservatory and Otar Bluashvili, the head of Erisioni Ensamble based in Tbilisi, Georgia.